"Our business success is directly linked to enhancing the well-being of the people who make and enjoy our products and to supporting the communities where we grow our ingredients." – Irene Rosenfeld, Mondelēz
At CORDA, our philosophy has always been about focusing on the fundamentals of a business and purchasing businesses at a discount to intrinsic value. This is a tried and true strategy touted by value investing legends Benjamin Graham and Warren Buffett. As part of our focus on owning strong and fundamentally stable businesses, we seek to identify those companies with attributes that would indicate they have the potential to be truly sustainable businesses over the very long term.

What is ESG Investing?
ESG stands for Environmental, Social and Governance, and ESG Investing is a term that is often used alongside terms like sustainable investing or socially responsible investing. Furthermore, ESG has become industry shorthand for a framework that encapsulates those areas where business, ethics, and values intersect.
Environmental – There are positive and negative sides to environmental issues, and this sector of ESG assesses how businesses deal with them: it examines companies' ability to control direct and indirect environmental impact, by limiting their energy consumption, reducing their greenhouse emissions, fighting resource depletion and protecting biodiversity.
Social – This space dives into how a company defines a strategy to develop its human capital, manage product safety, and adheres to high standards regarding workplace health and safety along with high labor standards in the supply chain.
Governance – This third piece of ESG covers a broad range of corporate activities including board and management structures as well as a company's policies, standards, information disclosure, auditing and compliance. We want to know that a company's accounting is both accurate and transparent and that its business practices are ethical. We also like to see policies that encourage shareholder engagement and to invest in companies with a board of directors that is both accountable and diverse.
Lately, there's been much more conversation about ESG investing, but what is generating the recent buzz? According to MSCI, there's three main drivers accelerating the conversation of ESG investment:
The World is Changing – Global sustainability challenges such as flood risk and sea level rise, privacy and data security, demographic shifts, and regulatory pressures, are introducing new risk factors for investors that may not have been seen previously. As companies face rising complexity on a global scale, the modern investor may reevaluate traditional investment approaches.
Investors are Changing – Over the next two to three decades, the millennial generation could put between $15 trillion and $20 trillion into U.S.-domiciled ESG investments, which would roughly double the size of the U.S. equity market. A growing body of studies suggest that millennials – as well as women – are asking more of their investments.
Data and Analytics are Evolving – With better data from companies, combined with better ESG research and analytics capabilities, we are seeing more systematic, quantitative, objective and financially relevant approaches to ESG key issues. Better data and analytics have paved the way for numerous studies that explore ESG investing.
CORDA's Approach to ESG Investment
As value investors, one factor we've always looked at is the sustainability of a business. Questions we will consider are: Does the structure of the business allow it to evolve as customers' needs change? Are there risks to the business' fundamentals in a changing environmental landscape? Does the business ensure production processes that minimize the use of scarce or climate-altering natural resources? Answers to these questions have always been a part of Corda's investment philosophy long before it became the new buzzword in the investment community.
We have long-recognized that environmental, social, and governance factors can impact a businesses' ability to remain competitive, maintain brand relevance, achieve financial milestones, and ability to create long-term shareholder value. By utilizing ESG analysis, we can build a portfolio of companies more apt to transition to a more sustainable global economy. In CORDA's view, ESG investing is simply a better, smarter way to invest.
The table below illustrates examples of criteria that goes into our ESG analysis of a specific business.
Environment
Social
Governance

Power consumption
and greenhouse gas emissions
Water
Biodiversity, pollution, and waste

Labor conditions and
non-discrimination
Health & safety
Social relations
Client/supplier relations
Product responsibility
Local communities and human rights

Independence of board
Audit and control
Compensation
Shareholders' rights
Ethics
ESG strategy
Screening businesses using these criteria puts CORDA in position to invest in companies that are well-managed, forward thinking, focused on creating long term shareholder value, and are leaders in their industries. This reinforces our belief that CORDA has always been an ESG investor because these are the types of businesses we have always sought for our clients.
Cornerstones of businesses in a CORDA portfolio include steady cash flows and dividends, along with lower volatility. How does CORDA's analysis of ESG criteria lead to these results? Below is an illustration on how higher ESG-rated businesses lead to the types of businesses CORDA seeks out.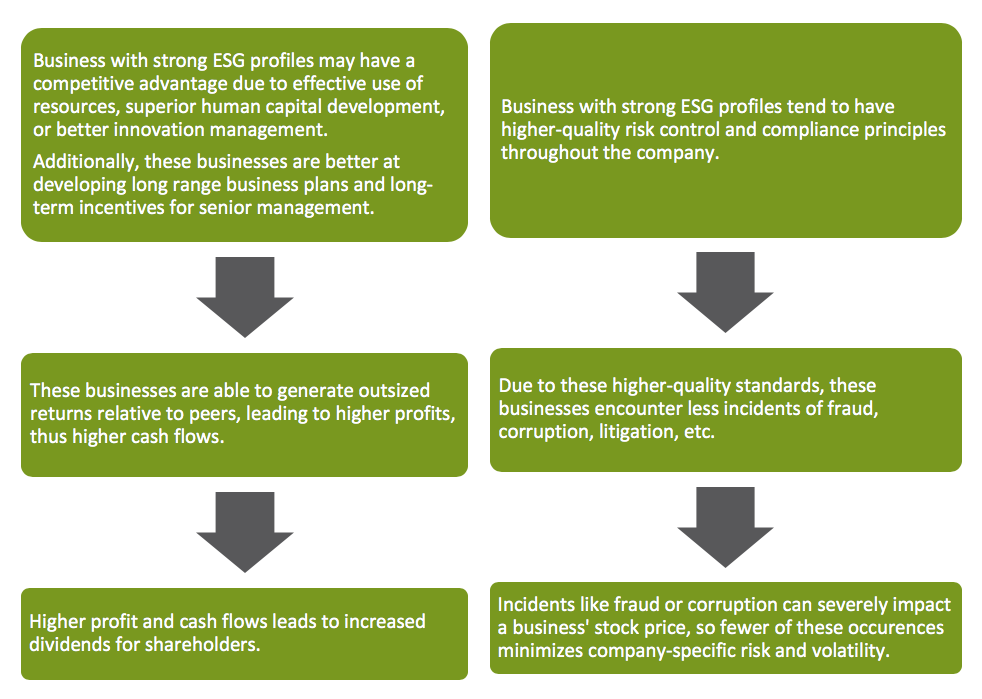 Bottom Line
ESG is not a cookie cutter screening tool. There are various formulas and measurements that many professionals disagree about. Believe it or not, there is no uniform standards around ESG that the investment and financial sector has agreed upon! For example, some investors may interpret a social category quite differently than another set of investors. Situations arising recently at Nike, Starbucks, and Target can be interpreted very differently among investors. Putting all differences and disagreements aside, one could interpret the data and come up with opposite conclusions! So ESG is not a tool that scientifically gives you a hard and fast incontrovertible answer. It leaves plenty of room for interpretation. It's another tool in the tool belt and we believe it helps us recognize the potential for sustainably excellent businesses that we seek to own at the best price.